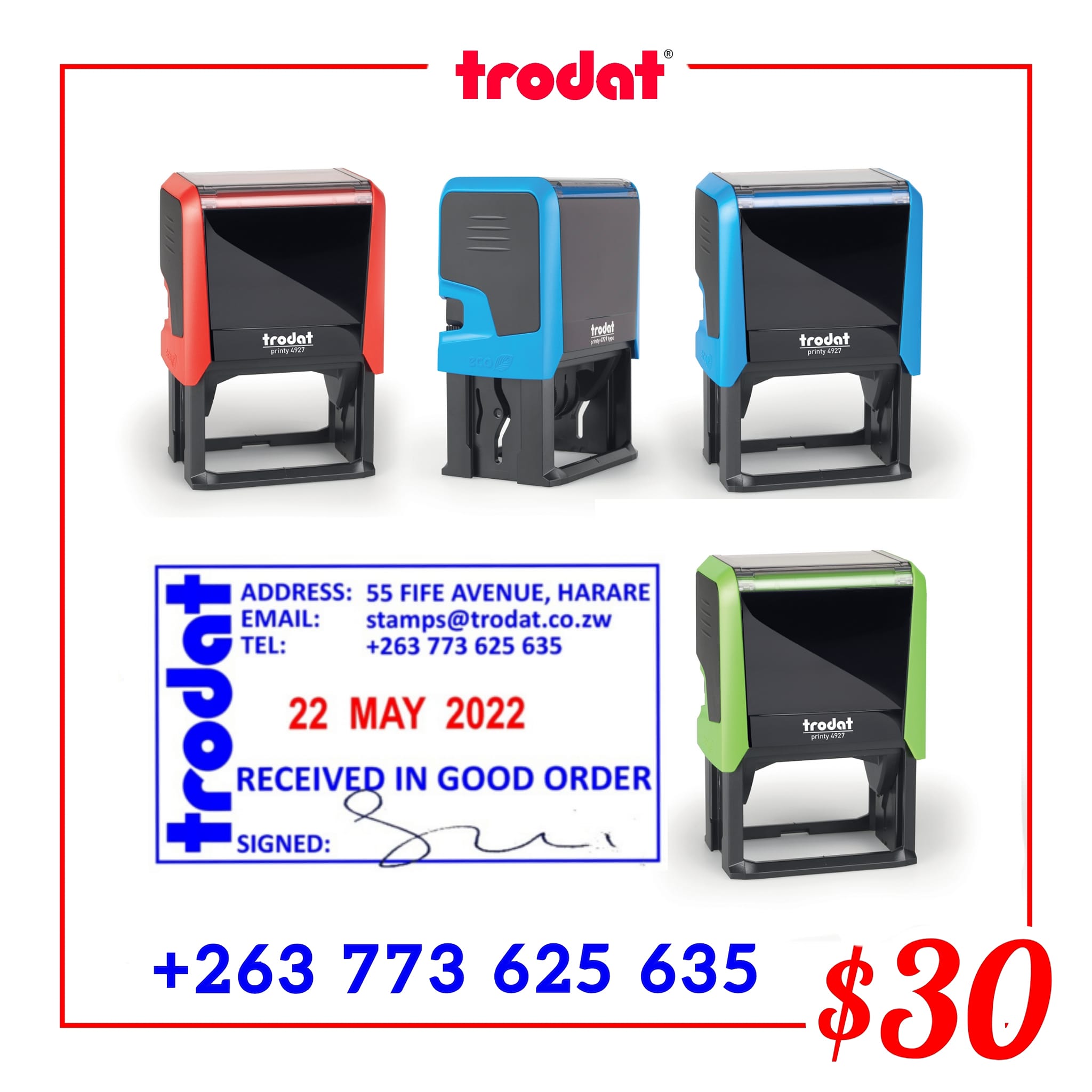 All New Trodat Printy 4727 Date Rubber Stamps and 4927 Text Stamps
New Trodat 4727 date stamps and 4927 Printy 4.0 rubber stamps are now in Zimbabwe. The 60mm x 40mm text plate size has always been a perfect fit for businesses around the world. Thus, it was clear to us that the 4927 text and 4727 dater stamps also deserve the proven Printy 4.0 features – which we finally deliver on!
Our rectangular-shaped 4927 Printy 4.0 has a text plate size of 60x40 mm – perfect for bold impressions. It comes with the beloved and sleek Printy 4.0 design. The front plate with IMD foil ensures the authenticity of "the original" and carries the shiny logo in elegant silver embossing. The soft-touch side elements provide better grip and ergonomics and the ink cartridge with clips keeps your fingers clean. For easier text plate mounting, the text plate holder is raised higher and offers a pre-applied adhesive foil with a grid pattern.
The 4927 Printy 4.0 is available in the following frame colors: eco-black, eco-grey, sky blue, flame red, and apple green. It is available in the four standard ink colors black, blue, red, and violet. Also, typomatic versions in the frame color sky-blue are provided as well. Its sibling, the rectangular-shaped 4727 Printy 4.0 Dater shares the same characteristics while additionally coming with a 4 mm date placed in the center. This allows for lots of use cases where time matters. The softer wheels and band cover improve ergonomics and further helps with clean handling.
The 4727 Printy 4.0 Dater is available in eco-black with our standard ink colors blue and black, an un-inked ink cartridge, and with the bi-colored ink cartridge blue-red and black-red. The date is available in more than 10 languages and several date formats. Also, typomatic versions in the frame color sky-blue are provided as well. As always, also these new Printy 4.0 models are climate-neutral as standard.