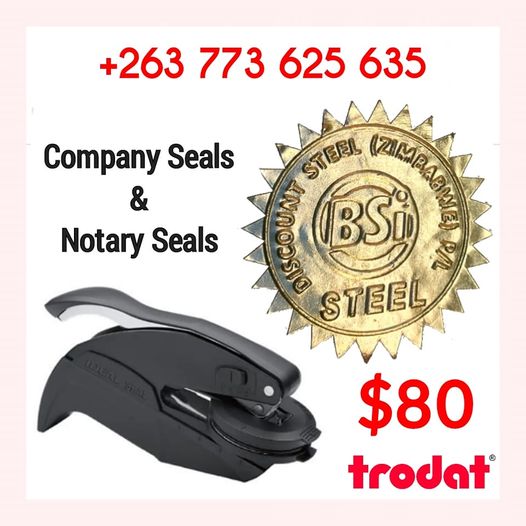 Trodat Notary Seal Stamps And Company Seals Presses
Legal practitioner seal embossers, rubber stamps, and date stamps.
Trodat Ideal Seal Press Embosser is egonomically designed, making it comfortable to hold and light to carry. Whether it is a company logo, a private address, or something creative. The new company notary seal embosser is used as a desktop and pocket seal press. You can create a beautiful and detailed impression with minimal effort.
Features and Benefits:
Perfect Impression Quality
Click sound when an impression is made
Precise Impression Positioning
Ergonomic & Lightweight
Smallest effort to make an impression
Use as a Pocket Seal or a Desk Seal
Easy and Intuitive Die Holder Change
Easy Storage deluxe bag
How does Embossing work?
You send us a design and/or logo and we create a male and a female plate out of a hard and durable material called Delrin. These plates are then perfectly aligned and mounted onto the die holder, which is placed into the embosser. The paper that is to be embossed is then placed in between the male and female plates. The male Delrin plate is mounted at the bottom of the die holder. When pressure is applied to the handle of the embosser, the plates are forced closed and the male plate pushes up and through the paper, creating a raised impression of the artwork on the paper. Although the embosser will still make an impression on thicker paper, we can only guarantee a perfect impression on normal office paper.
Uses for the new Trodat Ideal Seal (Embosser)?
Embossers are used for a variety of different purposes and by different industries/professions. These include:
Branding - Add a creative and professional touch to your letterhead, compliment slips, and training certificates.
Legal Practitioners - We have a standard layout used by notary publics and conveyancers. Attorneys also use embossers for certain legal documents.
Crafting - There are numerous applications for crafters.
Fraud Prevention - Many training providers now use embossers on their training certificates to prevent them from being fraudulently reproduced.
Call/WhatsApp: +263773625635 to place an order.